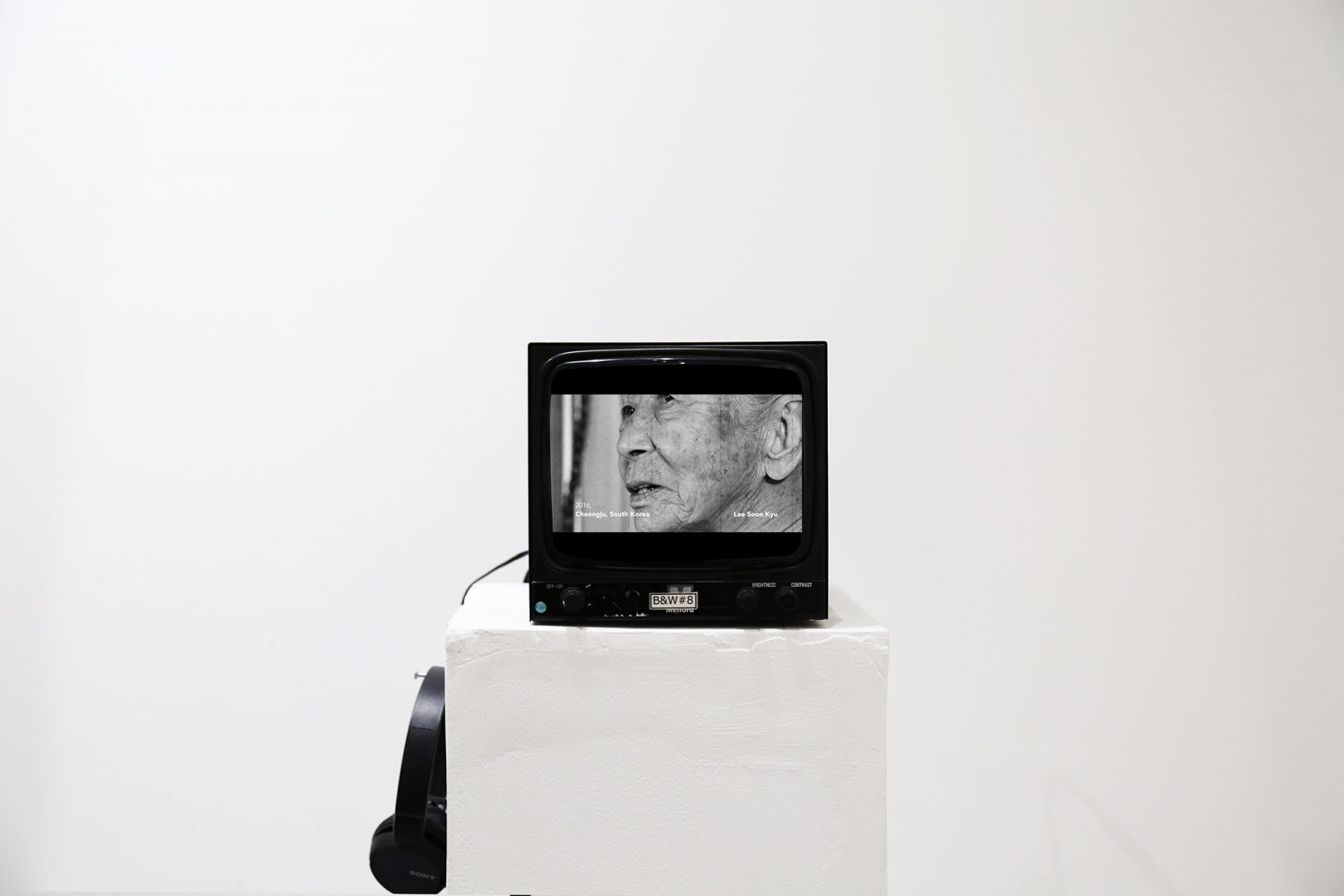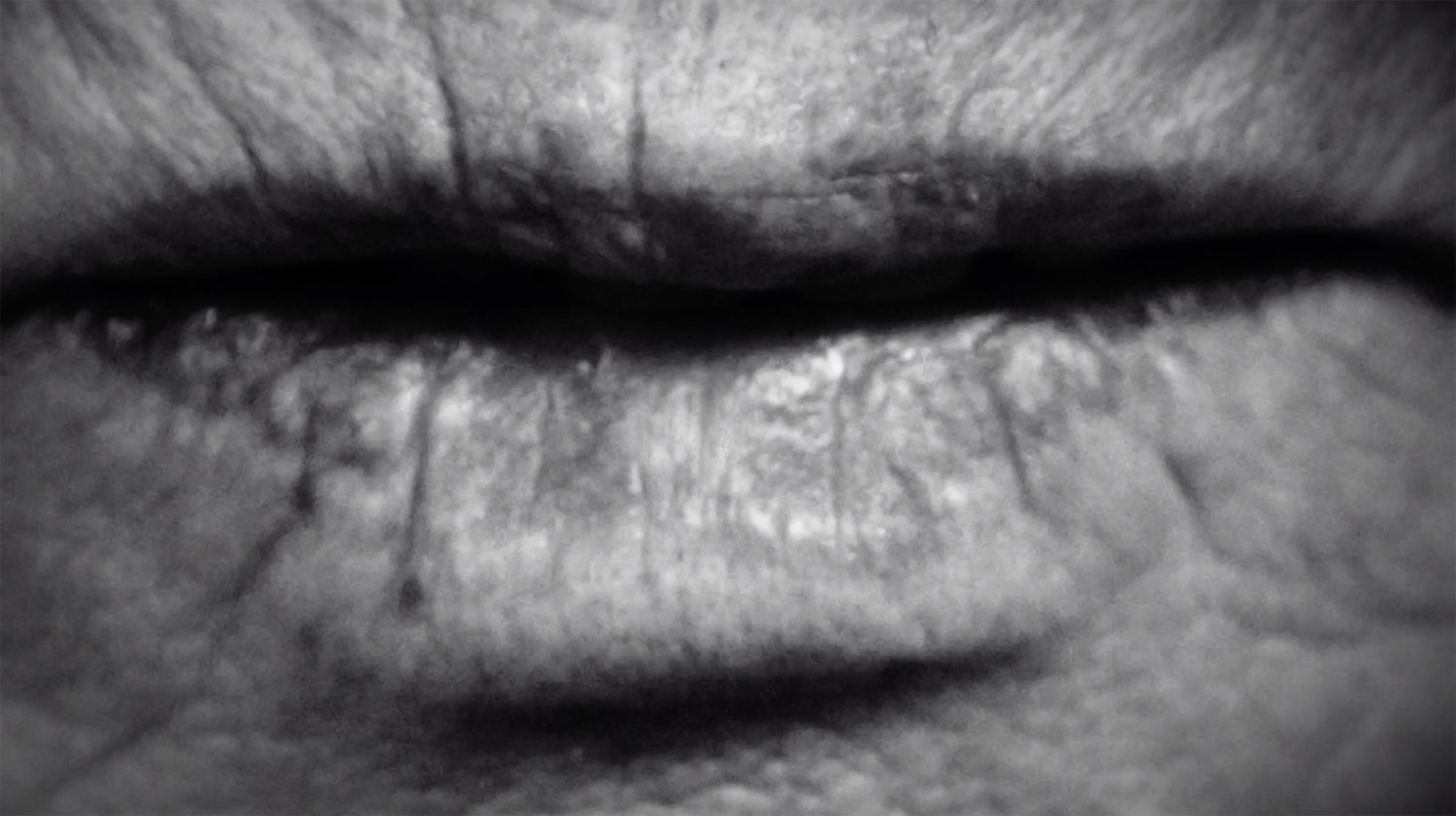 Lee Soon-Kyu, 2017
Corten steel structure, TV Screen displaying moving image
103.9 x 196.4 x 50 cm
Becky Allen, Charlotte Colbert, Adeline de Monseignat, Camilla Emson, Nancy Fouts, Eloise Van Heyden, Alice Anderson, Miriam Austin, Bea Bonafini, Ines de Bordas, Soojin Kang, Radhika Khimji, Romana Londi, Mariana Mauricio, Walter & Zoniel

"Lee Soon-Kyu" is part of Charlotte COLBERT's series of SCREEN PORTRAITS. which are anthropomorphic sculptures made of screens and moving images in cortain metal casings.
Artist and filmmaker Charlotte Colbert undertook the long journey to find and meet Lee Soon-Kyu in her home in Cheongju, South Korea. The portrait consists of detailed abstracts of Soon-Kyu's face, capturing the details of the waiting, recreating her presence in time and abstracting her to universalize her story.
Colbert displays the moving images in an anthropomorphic sculptural arrangement of screens set in rusty metal cases giving the overall feel of a portrait lost in time, re-discovered in the future, worn by the years gone by.
"I was interested in re-creating presence. Sharing the eerie intimacy of being with someone, of partaking in that faith that is waiting…" Charlotte Colbert
"It is never the beginning or the end, which are interesting: the beginning and end are points. What is interesting is the middle – all the points between the beginning and the end." Deleuze, Dialogues.
The abstraction of Lee Soon-Kyu captures the universality of waiting. Its entrenchment in the human condition.
As creatures of language we are doomed to be always separated. Language, which is a process of symbolization, separates us from ourselves and the world and yet we have access to ourselves and the world only through that very language. We are not our reflection in the mirror yet our only knowledge of ourselves is that very image. In that separation is the gap, the unbridgeable void of human existence, which we yearn to fill and on the horizon of which, as Maurice Blanchot describes, religion and art dance. It is the promise, the striving towards this unattainable feeling of wholeness, which makes us all Godot.
This piece touches on religious, philosophical, psychoanalytical, sociological references. Like the characters in Waiting for Godot, their waiting, their uncertainty, their path are dependant on outside forces over which one has little control. The surealness, tragedy and absurdity of Cold War political games.
Backstory:
October 2015, KOREA: Lee Soon-kyu, an 85-year-old grandmother from South Korea, smiled shyly, like the young bride she once was when the husband she last saw 65 years ago hugged her.
Lee had been married to Oh In-se for only seven months and she was five months pregnant when the Korean War
erupted in 1950. Oh disappeared into the conflict, ending up in the North when the war was halted three years later by a truce that left the Korean Peninsula divided.
The spouses did not see each other again until Mr. Oh, now a deeply wrinkled 83-year-old, showed up wearing a black fedora as part of the first reunions of war-separated relatives the rival Koreas have arranged in nearly two years.
"I can't tell how much I missed you," said Ms. Lee, who never remarried and raised her son alone. "I have wept so much thinking of us that there are no tears left in me."
Mr. Oh, holding her hand, said, "My dear, I didn't know that the war would do this to us."
Ms. Lee and the couple's son, Oh Jang-gyun, 64, were among 389 South Koreans who crossed the heavily armed border into the North in buses and ambulances on Tuesday to meet with 96 elderly North Koreans who wanted to reunite with long-lost relatives for perhaps the only time. Ms. Lee said that after her husband appeared to her in a dream in 1978, she gave him up for dead and began holding an annual ritual for a deceased relative.
After the Koreas agreed to hold a new round of family reunions, she heard from the South Korean Red Cross that her husband was alive in the North, looking for her.
The reunions, at the Diamond Mountain resort in southeastern North Korea, are a rare and highly emotional glimpse at the pain the long political divide on the peninsula has inflicted on families separated by the war. For more than six decades, they have been forbidden to exchange letters, phone calls or emails, much less to meet. While their governments have arranged occasional reunions, they have been limited to a couple hundred people.
Lee Soon-Kyu and her husband were granted permission to be together for only 12 hours, in supervised sessions over the course of five days.
South Korea has repeatedly called for more reunions,which are widely viewed as a barometer of relations.But given the fluctuating political tensions on the peninsula, only 18,800 Koreans have been allowed to participate in 19 rounds of face-to-face reunions since 1985, when the first gatherings were held.
The reunions are a poignant yet bitter reminder that the Korean Peninsula is still in a technical state of war because the 1950-53 fighting ended with an armistice, not a peace treaty. More than half of the 66,000 South Koreans waiting for reunions are in their 80s or older. South Korea selects the candidates for reunions by lottery, while the North is believed to give priority to people deemed loyal to the government.
Artist and filmmaker Charlotte Colbert undertook the long journey to find and meet Lee Soon Kyu in her suburban home in the outskirts of Seoul.